Chinese New Year at The Pier Cairns - 6-26 February
The Pier Cairns is proud to partner CADCAI in bringing the 2021 Chinese New Year Festival to  the community.  Throughout the festival from 6 – 26 February, you can visit the Chinese pergola display in centre court, take a selfie at the pergola or place a blessing or message of hope on the wall.  CADCAI's Chinese New Year store at the Pier will also be open for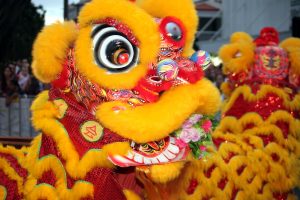 visitors to learn about the traditions and customs of Chinese New Year Festial. We will showcase the history and contribution made by the early Chinese in Cairns and region plus have New Year merchansie for sale. 
With a Lion Dance performances, and special offers running throughout the festival period, The Pier Cairns  is the place to come to bring in the Year of the Ox!
The CNY Store will be on open from 10am to 2pm daily. 6-26 February 2021
New Year's Day Firework - Cairns Lagoon Eastern lawn (near Helipad) Cairns Lagoon Friday 12 February
                 It's time to celebrate !  Join CADCAI as it welcomes the new year with traditional lion and dragon  performances and noisy fire crackers to keep the evil spirits away.
Feed the lions with hongbao (lucky red packets) and be blessed with good fortune, happiness and prosperity for the coming year.
Cultural entertainment provided by Deyi Xiao Taichi, Mugendai Drummers, and CADCAI's Lion and Dragon teams.
The spectacular Fireworks Display from the Lagoon statrs at 7.30
When: 12 Feb 2021
Time:  5.30 -7.30pm
Fireworks: 7.30pm
Chinese New Year Market Day at Pier Cairns - 13 February
Saturday 13 February 2021
9.30 am to 2pm

Celebrate Chinese New Year of the Ox festivities at The Pier Cairns  CADCAI will support The Pier Cairns 's market day by  providing Cultural entertainment throughout the day. This will include live performances  from CADCAI  lions,  dragon and  Molihua Dancers;  traditional music;  guzheng, Taichi and calligraphy demonstrations as well as on-line performances  from Cairns' Sister city Zhanjiang and other places.
Feeling hungry?  Support CADCAI by buying yummy authentic Chinese street food from our pop-up cafe.   
Live-stream can be viewed at cadcai.org,au or CADCAI Facebook
Museum Exhibition: Lions and Dragons - the Sights and Sounds of Chinese New Year 6 Feb-17 April
C
airns Museum and CADCAI
 proudly present:
Lions and dragons- the Sights and Sounds of Chinese New Year
This exhibition provides insights into Chinese and Australian culture in Cairns through the  exhibtion of costumes,  musical instruments and practices associated with the performance of the Lion and Dragon dance during Chinese New Year.
The objects exhibited will be mix of historical and contemporary items from CADCAI's collections.
When : Saturday 6 Feb  to Saturday 17 April  2021
Where: Cairns Museum,  cnr Lake and Shields Streets
Opening  Hours:  10 .00 – 400pm  Monday to Saturday
Museum entry fee: $15 per person   Concession Rate:$12
Chinese New Year Pergola Photo Competition. 5-26 February
Lantern Decorating Workshops 14 & 21 February
2021 Year of the Ox Gala Dinner - Saturday 20 February
Every year CADCAI members celebrate the New Year with a traditional Chinese buffet. The menu includes mouth watering dishes such as steamed Barramundi, crispy beef fillet, braised tong poh pork belly.
The CNY Gala Dinner celebrates the reunion of family and friends with a Chinese style buffet. The evening is an opportunity to network and catch up with friends. Entertainment is provided by the CADCAI lion, Molihua dancers and Chinese music.
Click HERE for Menu and booking details
Where: Trinity Room, Shangri-la,  Cairns
Time: 6.30pm
Lantern Festival - Friday 26 February
T
he Lantern Festival, also known as the Yuan Xiao marks the end of Chinese New Year festivities. Traditionally Chinese families make sweet glutinous rice balls called "tang yuan" which symbolise reunion and light bright lanterns decorated  with blessings or riddles.
This years Lantern Festival will be held at the Esplanade Lagoon near the Western Events Lawn. Purchase a floating lantern and decorate it with blessings, your new year wishes, hopes and dreams. The lanterns will be released on the western edge of the lagoon to create a sea of lights for an unforgettable spectacle. Enjoy the CADCAI dragon and lion dancers as they make make their final festival appearances.  Lanterns, can be purchased on the night from the CADCAI merchandise stall.
 When: Friday 26 February 2021
Where: Esplanade Lagoon -Western Events Lawn
Time: 5.30-7.30pm 
Year of the Ox Yum Cha - Saturday 27 February
Experience an authentic Chinese yum cha and enjoy a variety of delightful Cantonese dim sims in the company of family and friends.
When: Saturday 27 February 2020
Where: Golden Boat Restaurant,  Lake St
11.30 am – 1.00pm
2021 Chinese New Year Festival Media Launch - 5 February
This event kicks off the 2021  Chinese New Year Festival.  Local media, festival partners and sponsors are invited to join CADCAI in welcoming the Year of the Metal Ox at the Pier Pergola followed by drinks at the Backyard. Get a sneak preview of what activities are in store over the festival period. Meet and greet CADCAI's auspicious performing lions. Attendance by invitation only        
When: Friday 5 February 2021
Where : The Pier Cairns
Time: 5pm                                 
Cairns & District Chinese
Association Inc
JOIN OUR EMAIL NEWSLETTER
  Victory Day Cairns 10 June 1946       Photographer: Neil Mitchell   Photo courtesy of the Mitchell Family